Natural Stone Cleaning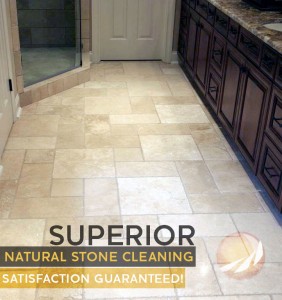 Natural Stone flooring in your home or business easily create an elegant and professional atmosphere.  However, natural stone floors need the proper care and maintenance to ensure they stand up to time, and the wear and tear of every day use. That's where we come in.  Superior Floor Care of Lexington, Kentucky offers professional and experienced Natural Stone Floor Cleaning and Stone Tile Cleaning services to keep your floors looking amazing all the time.  After all, you and your floors deserve the best, and when you choose Superior, your satisfaction is always guaranteed!
Natural Stone Tile Cleaning Service
From bathrooms and living rooms to Hotel lobbies and Restaurant patios, Superior has your stone flooring cleaning needs covered! Proper natural stone floor cleaning requires special care and equipment to prevent scratches and other potential damage to the stone surface.
We service all types of Stone Flooring, including Marble, Slate, Granite, Limestone, Sandstone and all other types of Stone Flooring. We also provide professional Tile and Grout Cleaning services in Lexington Kentucky and the surrounding areas. Call us today for more information and a free estimate!

Natural Stone Cleaning Professionals
Granite Floor Cleaning
Superior is Lexington, Ky's first choice for Granite Floor Cleaning.
Marble Floor Cleaning
Our team is trained to professionally clean fine flooring such as Marble.
Slate Floor Cleaning
Slate floors are great for standing up to wear and tear, but require special cleaning methods.
Travertine Tile Floor Cleaning
Travertine makes for beautiful floors, but can be challenging to clean.
Limestone Tile Floor Cleaning
We're professionally trained to clean natural stones like Limestore.
Call Us Today for a Free Estimate on Any of Our Services!