Carpet Stretching Services
Have you noticed small wrinkles, waves or buckling in your carpeting?  While it may not seem like much now, these wrinkles are due to your carpeting not being properly stretched, and can lead to damage and even the need to replace the carpeting completely.  The team at Superior Floor Care is Lexington's number one choice for carpet stretching and re-stretching services.  It's our goal to help you get the most life out of your carpet as possible so you can enjoy it for years to come.
What Causes the Wrinkles in Carpeting?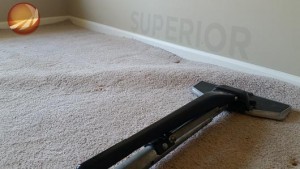 As carpeting ages and wears, it becomes worn and can loosen over time.  In most cases, everyday foot traffic isn't enough to cause carpeting to become loose, but things like heavy traffic, water damage and excess moisture, as well as frequent furniture moving and even improper installation are all causes of loose carpet and wrinkles.  As rugs become loose they start to pull away from the tacking, which can cause rips, tears and even more wrinkles.
Superior Carpet Stretching and Re-Stretching
Superior's carpet stretching and re-stretching services will get rid of the wrinkles and ripples and have your carpets looking brand new again.  Our professionally trained technicians have the tools and experience to restore your carpeting permanently and prevent any further damage from loosening.  We offer quick and convenient carpet stretching and restretching services that add years to the life of your carpet for a very low price.  As always with Superior, your Satisfaction is 100% Guaranteed!

The Benefits of Superior Carpet Stretching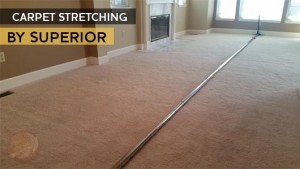 Prevents further Rug damage.
Remove wrinkles that create tripping hazards.
Prevents damage to carpet padding and structure.
Serviced by our professionally rained Technicians.
Greatly increases life span of your carpeting.
Fast, convenient and professional service.
I thought my basement carpet was done for, but Superior was able to stretch it out and clean it, and now it looks brand new! That saved me a ton of money and I couldn't be happier!
Freda Jennings
Carpet Stretching After Cleaning
Properly drying after cleaning is one of the most important parts of carpet cleaning.  Excess moisture from cleaning is one of the number one causes for loosening carpet.  That's why we provide our industrial strength drying solutions for every carpet cleaning job.  If you've noticed wrinkles or looseness after having your carpets cleaned by the other guys, call Superior and our professionals will get your carpet back into shape.
Call Us Today for a Free Quote!
Looking for Carpet Repair Services?
If you have more severe damage to your carpets, please visit our Carpet Repair page!