3M Scotchgard Treatments in Lexington KY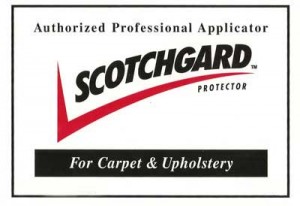 Scotchgard is pet-friendly and completely safe for you and your children. Scotchgard was created in 1956 by 3M. Since then, it has continued to be one leading names in carpet and fabric protectants. It can be used on furniture, car upholstery, and most carpets, including wool, polyester, nylon and acrylic. In many cases, even most of your dry-clean only and delicate fabrics can be treated with this wonderful solution.
Scotchgard bonds to the fibers of your carpet or upholstery and acts as a powerful protectant against spills. Although a water-based solvent, it reflects both water and oil-based liquid spills. As Scotchgard is applied to your carpets by our very handy technicians, it saturates the carpet from the fiber tip to the fiber base and creates a sealant that prevents stains from soaking into the fibers. The spills and dirt remain on the tips of the carpet so they are more easily cleaned.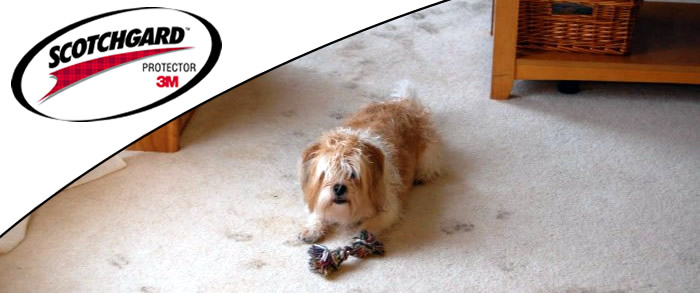 Applying Scotchgard will elongate the life of your upholstery and carpet; and with over 2,750 hours spent on the average couch, how can you resist?  Superior Carpet Cleaning recommends this wonder-protectant for all your carpets and furniture, however, we also understand some of the carpeted area in your home isn't exposed.  High-traffic areas, such as the walk-ways in living and dining rooms, hallways, children's rooms, etc… will definitely be benefitted by our Scotchgard application.  In these areas, dirt will not settle deep into the fibers, kool-aid or other spills can be sopped up quickly.
The beauty of having your carpets and upholstery treated is the Scotchgard aids in your cleaning.  With any spill or stain, it is important to clean up excess liquid or dirt quickly, this is no different with treated areas.  However, since dirt or spills do not seep into the areas, they are easier to remove and, under most conditions, will not leave stains.  Liquids remain on the surface and leave no trace when taken care of in a timely manner.  Dirt cannot make its way deep in the fibers and cause damage to the fibers.  Scotchgard really is a wonderful tool to prolong the life of your carpet and furniture.

A few notes on 3M Scotchgard Treatments
Scotchgard does not protect 100% from all spills.  It keeps them on the surface and tips for easy removal.  When we treat your home, we guarantee the areas treated; however, in the situation where there is a spill you either can't get to fast enough, or a corrosive liquid has found its way onto the surface, Superior Carpet Cleaning technicians will return to your home and clean the area for free.
Applying Scotchgard should not be understood as a substitute for vacuuming or regular cleaning.  It is important to the life of your carpet and upholstery to take care as you usually do.  Although rare, certain substances can change the makeup of the fibers which cannot be stopped or slowed by Scotchgard.  These could cause trouble with or without Scotchgard and special attention should be given to these spills.  Our technicians will also return to take care of these spots.
On our initial application, carpets can sometimes seem starchy and stiff.  Do not panic or get frustrated.  This is normal.  Vacuum once and your carpet or upholstery's texture will return to normal.
Again, sopping up excess liquid in spills is always important. And vacuuming regularly is also important.
Next time you call for a cleaning, make sure to mention Scotchgard. We guarantee your satisfaction. And remember, if a spot develops after we have treated your carpets and furniture, we will come back and make sure they disappear.
100% Satisfaction Guaranteed. Call us today for a Free estimate.