Tile and Grout Cleaning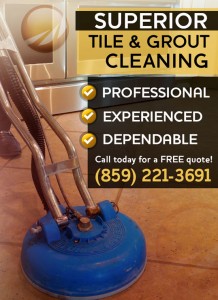 Keep the germs and bacteria out of your home with professional truck mounted, steam tile and grout cleaning from Superior Floor Care of Lexington, KY.  Our team is fast, professional and fully insured, and your satisfaction is always 100% Guaranteed.
Over time, all the moisture and dirt contaminants trapped in grout not only stain your grout, but they become a breeding ground for mold and mildew. The best way to get it out is with a powerful steam cleaner and the right cleaning process. Superior has top of the line equipment for extracting molds and stains that run deep. Further, our cleaning methods and procedures have been established from years of experience.
There are many different types of tile you can have in your home.  Ceramic tiles are most common in homes where as Vinyl Composite Tile, or VCT is seen more in high traffic areas such as offices or schools.  Ceramic tiles are usually more resistant to moisture; however, some need special attention.  The grout that accompanies ceramic tiles is opposite, though.  The grout is porous and can trap moisture and dirt, which can lead to its discoloration.  VCT doesn't typically involve the same techniques.  Check out our VCT Tile Cleaning page to learn even more!

Total Floor Care – We Service all Surfaces: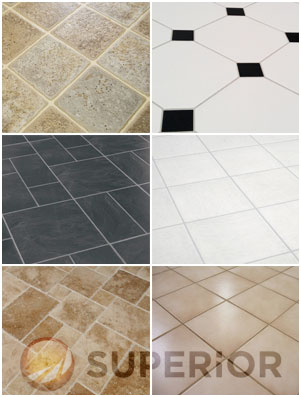 Ceramic Tile Floors
Granite Floors and Surfaces
Slate Tile Floors
Porcelain Tiles and Floors
Laminate Flooring
Vinyl Tile and Floors
Travertine Floors
Linoleum Flooring
And even more!
Our Cleaning Process
Recommended Care
Our Tile and Grout Cleaning Process: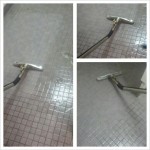 When you call Superior Floor Care to take care of your tile and grout cleaning, we arrive with our truck mounted steam machine, fully prepared for all the required processes to return your flooring to its original luster.  Here's a bit of a breakdown of the entire process.
We first apply pre-spray which is a solution that breaks up and loosens the dirt and debris from the floor.  We then scrub the tile and grout with a high powered scrubbing pad to fully clean the floor.  After this, in comes the steam.  The high temperature of the water is used in a rinse that neutralizes the pH of the floor and removes all the dirt and excess moisture.  Drying the floor is crucial at the end of the cleaning as left over moisture can discolor the grout once again.  We seal the grout which prevents future moisture build up. And that's it.
Our Recommendations for Tile Floor Care:
Superior recommends certain ways to maintain the life of your tile and grout in between our visits.  Vacuuming the floor regularly, as with your carpet, is always a great method.  Excess dirt is never your friend.  We would also like to mention that bleach based solutions, vinegar and jet mops are not particularly great for your floors, either.  And of course, mopping is another great way to continue having clean floors, however, as stated earlier, it is important to remember to dry the flooring.  This way, there is no left over residue from mopping.  Superior is always happy to come clean for you, and we recommend that every 6-12 months, you let us come take care of your tile and grout.  We are only a phone call away!
Call Us Today for a FREE Estimate!